An HT team visited the two colonies on Monday and found that doors and window grilles were missing in most of the flats.
By Leena Dhankhar, Hindustan Times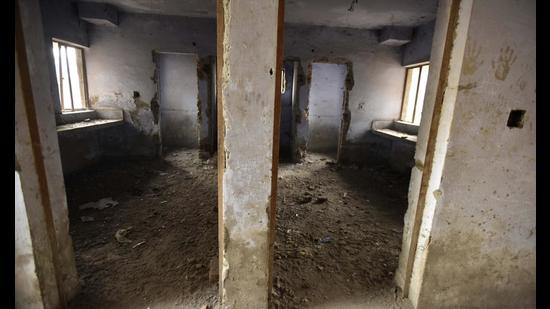 Read the entire article at Hindustan Times.
Excerpt:
Some people who visited Dabua Colony on Monday were carrying their allotment letters and flat numbers but were shocked to find the dilapidated condition of their flats.
"The MCF is asking to pay ₹17,000 as down payment but we are left with no money as we could not work for months due to the demolition drive. If we don't pay, we will not get the flat. But even if we pay, we cannot stay here and it will take at least a year to make this place liveable,"
Some people who worked as security guards when the colonies were being developed 15 years ago said that thieves had stolen the water pipes, toilet fittings, window panes, and grilles. Cases have been registered but no arrests have been made so far, they said.
There are residents like Kumar who said that they don't come out of their flats after 7pm. The children are not even allowed to play outside the clusters, they said.
Some children who were playing in a ground said that they are allowed to play only till 2pm. "My parents fear that someone will kidnap me from here as several such incidents have been reported," said a 13-year-old boy who lives with his parents in Dabua Colony for the past over 10 years.